Interview with Puzuzu
For those of you who don't know (and I doubt there are many of you) Puzuzu is the creator and webmaster of the long running occult-oriented site SpellsandMagic.com, and has become an icon in the alternative and/or religious community both online and off.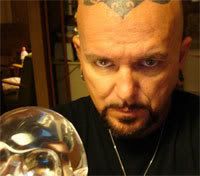 Though to the common man he may have an intimidating exterior, he has actually proven to be both a very friendly and patient guy, and has granted me the opportunity to interview him. During this interview we discover Puzuzu's views on religion, the current state of humanity, and his take on everything from religious drug use to cloning for medical purposes:
First of all, I'd like to thank you for taking the time to participate in this interview with me. I'm sure you are quite the busy person so before we start, may I ask in general what you've been up to lately? Any new projects or endeavors?

I have been debating on whether 2 write a book or not and exactly what 2 write about.
My main endeavors would be seeking a greater "Thrill". I am an Adrenaline Junkie. I need to do high risk things or things that will scare me. But scary things really don't scare me... they make me excited and get my blood pumping. Even if I am Out of body and end up in the astral pits.... I find it the adventure of a lifetime. What I am planning next is a more radical flesh hook Suspension, something much more painful than the last. This will put my mind 2 the test.



From the varied content held in your web site, you seem like a pretty diverse individual. Would you say you are occult-oriented or something else?

Absolutely..... Every aspect of the Occult has become part of my life in some way. It is mostly all I think about.



How long have you been involved in the occult or magic?

Since I was 15 and became awakened 2 the fact that there was more 2 life and the universe than the Bible told me. From that moment on I studied and read every book on the Occult I could get my hands on. And during those years there were not as many books available as there are 2day.



How did you get started and how long did it take you to find the answers you needed?

One day when I was 15 I had a strange urge to read about pyramids. I was obsessed with them. This later led to me finding out about my past lives in Egypt.
To this day I am still searching for some answers. Most of my questions of why and how we got here have been answered, but there are a couple things I still need 2 know.



Do you have a basic philosophy in regards to religion and everyday life?

Well I believe in Jesus and I believe that we were created by the Creator Gods... Enki and Enlil who are both of the Reptilian Race. I know that were just a genetic experiment. There is no loving caring god like the Bible states. This god From the Bible, Yahweh also known as Enlil, was a brutal blood-thirsty renegade god struggling for power and in competition with his half Brother Enki, also known as Lucifer. If there was a compassionate loving god...then why are children born deformed? No, not because of our damn sins. It is because the gods did not perfect their DNA experiment in making man. As far as Jesus goes, I believe him 2 belong to another race, the Pleiadians, who are of light and harmony. I myself am from the same race of beings.



What are some of the sources you used to find this information?

Ancient Sumerian texts that were translated.



Do you have any religious or spiritual inspirations?

Archangel Michael is my inspiration along with Jesus. If it were not for Michael...I would have been dead long ago.



Living an alternative lifestyle in the Southeastern United States can prove challenging. Are your loved ones accepting of your chosen path?

Ha ha.....well. I live in the Tampa Bay area of Florida. There are so many assholes that live here. People are mean and not friendly, but they stay away from me.
My family accepts me and knows what I do but they think I am off my rocker sometimes for my knowledge is so advanced.



We are all perceived inaccurately from time to time. With that in mind, what do you think is the biggest misconception people gather of you?

Well not everyone agrees with my words and I do not wish 4 anyone 2 follow me. A lot of people write me and try 2 correct things on my site. For example: "You don't use the right colors on your Triangle of Solomon". I tell them "There are many different ways 2 do things and what works 4 me...works 4 me". What is right 4 one person may not be right 4 another. But some people get really mad if I do not go by there ways of thinking. They think the rules of the Occult were written in stone.



Do you have any advice for them to set the records straight?

Yes. Mind your own business and tend 2 your own life and not mine.



How do you feel about utilizing drugs to obtain a higher level of consciousness?

Why I have never done drugs..."cough cough"...ha. I think it is great sometimes.
I am not talking about getting high just to get high. I am talking about doing it to reach the Spiritual Realms. I must say I use absinthe, the high grade absinthe, to get where I need 2 be. No it is not a drug, it is a poison. Good ol' wormwood oil. I would have to say that mushrooms are the best thing in the world. Yet it has been 20 years since I did that. It is probably what awakened me to the Occult.



Are there any people, famous or none, alive or dead, that you think we should pay attention to?

Crowley.



How do you feel about the controversy surrounding medical technology and cloning?

Hell ya. I think we should definitely play God. Why? Because we are all God. Besides, our government has secret bases where they have been doing that for years along side ETs in genetics and creating human/alien hybrids.



Overall, do you think the state of humanity is getting better or worse?

Much worse. Every country is power hungry and all governments are evil bastards. The amount of pedophiles out there sickens me, especially here in Florida.
The fact that you can send money to help starving people and know that your money will never reach pisses me off too.



Have you encountered the prophecies of 2012? If so what is your take on it?

No one knows 4 sure, but I believe that is when Planet X (Nibirru) returns and throws us off our Axis. Then most of us will die. Some will be picked up by motherships by several different races of beings...some good and some bad. Say your prayers.



What is your opinion on the current state of the environment?

I do not believe all this bullshit about climate warming. Yes it happens naturally and always has, but people are blowing it out of proportion.



On a more basic level, what do you like to do for entertainment?

Drinking, watching women dance for me and going out for fine Dining.



Do you have any books you recommend to readers interested in occult or religious knowledge?

The Gospel of Judas, Children of the Matrix and Modern Magick. I could list so many that I like.



Do you recommend any other resources, i.e. web sites, places like museums, or anything of that nature?

Well most of the places I recommend are on my links page. There are so many. My favorite is WeatherWars.info.



What are your future plans for Spells and Magic?

To expand much, much more when I get the free time. There is just not enough time in the day.



And for yourself?

To travel more abroad. To go back to Egypt and if the god damn war weren't going on my ass would be in Iraq. The Sumerian Occult history there is so Deep. I believe the real reason we are there is for our government to find a hidden stargate. Most people overlook the fact that that is the area where the Ggod Enlil and Enki were based with Space Stations eons ago.



Do you have any good advice or anything else you would like to say to the readers?

Yes. Read every book you can get your hands on. Never stop learning. Realize that you are God incarnate! Remember that all mainstream religions are part of a control system to keep your ass in the Matrix. Get out of the Matrix!



Thank you, Puzuzu, for taking the time to state your standing on these issues and topics, and hopefully in the future we can get some updates on both you and the site to see how things are going. Before we part, do you have anything else to say to the public that hasn't been covered?

No, I think that's about it. I enjoyed answering your questions and I must say they were good ones!

For more information on Puzuzu visit his Myspace profile. His web site holds within its pages a lexicon of occult information including but not limited to the following topics: spells, meditation, astral projection, dream recall, time travel, hypnotism, and omens and beliefs. The spells section is especially extensive and the methods used for each spell are very well explained. Spells included will aid in conjuring energy, finding lost items, getting your way, banishing and reversal, invisibility, protection, evocation, and much more.
Click here to visit Spells and Magic.
Labels: interviews